Special Offers
$

189.95
When it comes to romance, the red rose rules! And when it comes to delivering romance in a big way, two dozen gorgeous red roses are a brilliant choice. Twenty-four stunning red roses are arranged with greenery and delivered in a feminine vase. [...]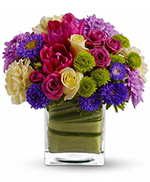 $

74.95
Oh, what a fine day it will be when you have this delightful spring bouquet delivered to someone special. Everyone will delight in the vibrant colors and bountiful blossoms, all thoughtfully arranged in a beautiful leaf-lined vase. Light yellow roses, hot pink spray roses, tulips and gerberas, yello [...]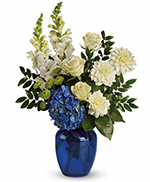 $

79.95
Sending this brilliant blue and white bouquet will surely garner oceans of appreciation from whoever receives it. Dazzling blue hydrangea, green roses and button spray chrysanthemums, divine white dahlias and snapdragons plus huckleberry arrive in a striking cobalt vase. [...]
Local Florist Delivery in Baltimore
Looking for flower delivery in Baltimore? Our florists provide excellent customer service delivering amazing hand arranged bouquets same day to any location in Baltimore. Our local flower experts are best fit to hand-deliver the perfect arrangement of fresh flowers for any occasion of your choice. We work and live in Baltimore neighborhoods and natural should be your first and only choice for same-day delivery to hospitals, nursing homes, funeral homes, hotels and any other location. Every delivery with us is a special, unique, and outstanding experience
Our beautiful arrangements are right for any occasions including Mother's Day, Father's Day, Birthdays, New Babies, Anniversaries, Valentine's Day, Easter, the 4th of July, Thanksgiving, Christmas and New Year's, as well as flowers for funerals, wakes and memorials, and Get Well Soon gifts. Celebrating a graduate from John Hopkins or Loyola University? Send your congrats to them with a gorgeous bouquet of flowers and balloons. Know a New Baby being born at MedStar Harbor Hospital? We make sure that our New Baby arrangement will get there and be stunning and memorable.
Recent Products
Elegant, artistic selections from local talent
Our network of florists and local growers offer the best, freshest selection of flowers creating the most sophisticated and elegant arrangements based on seasonal and classic favorites. Each bouquet we deliver is hand-arranged by our talented local floral artists who put their hears and souls into making your gift memorable and impressive. Every arrangement we deliver is unique and while our florist do follow the recipes provided, we do our best to make them outstandingly special to make sure your gifts stands out and brings joy.
We know Baltimore!
Our Same Day Delivery promise means that if you are able to place an order before 1pm local times and desire same day service, our florists will find a way to get your flowers to the recipient and will make sure that you are satisfied. We never ship our flowers and never deliver them in boxes like our competitors. Every bouquet comes arranged in an elegant vase ready to be enjoyed right away. Our drivers are well aware of possible delivery issues to Saint Agnes Hospital, can work around traffic to get your gift to The Ritz-Carlton Residences for the wedding ceremony, and we assure you that your bouquet will never be left on a porch unattended. During delivery process we make sure that blossoms as much fresh water as required, receive proper air and sunlight to make sure the flowers stay bright, healthy, and beautiful as would be in the native environment.
A winning team ready to serve you
We have tuned our site to make sure the ordering process is simple and your able to select the most appropriate bouquet for your occasion. Every order with receive is sent to local florist in proximity of the delivery address with the highest satisfaction score and the best selection of flowers. Our team of local floral experts in Baltimore are trained to deliver a masterpiece of flower design appropriate for your occasion. The local delivery teams our florists employ know Baltimore and know how to deliver your order same day to any location. Your satisfaction and happiness is our top goal, so don't hesitate to push us to go the extra mile!